Several talented musicians at some time or another have gone along for the ride with Drive-By Truckers. Among them: singer-songwriter Jason Isbell; his former wife, bassist Shonna Tucker; pedal steel player John Neff, and keyboardist Spooner Oldham, who used to record with the legendary Muscle Shoals Rhythm Section (more on that later).
But at the core of the group, taking turns driving the truck, have always been the band's co-founders, Mike Cooley and Patterson Hood, who have been playing together for ages, even before the band started in 1996.
We caught up with Hood by phone last month, in advance of Drive-By Truckers' March 28 show at The Queen. He sounded jovial and energized. It was seven dates into the band's 2018 tour and just a few nights after their concert in Portland, Ore., which has become Hood's home after moving there with his family in July 2015—far from his longtime residence in Athens, Ga.
"I love Portland," Hood says, adding that the transition from Athens was relatively easy. "They've got more in common than they do different, honestly. Obviously Portland's a much bigger city, and I'm enjoying that a lot. But they have a very similar vibe. Athens has more in common with Portland and Brooklyn and Austin than it does most small southern towns."
Drive-By Truckers is on a roll at the moment. The band is touring for the second time on the success of its most recent album, 2016's American Band, which not only was one of their most critically-acclaimed albums—appearing on many best-of-the-year lists – but also one of their most overtly political. Sample lyric: "Ronnie Reagan must be spinning his grave; Putin's on the rise, Ukraine's under siege; Fascism's knocking and Trump says 'Let them in.'"
"This record has legs," Hood says. "We're out touring right now, and the route we're on is really similar to what we did [right after American Band]. We're playing a lot of the same rooms, and, in some cases, bigger rooms. And in every single town, attendance has been up."
On that note, here is Hood, talking about the power of song-writing, recording, and his long-standing relationship with his musical partner, Cooley.
O&A: You really do have southern music in your blood. Your dad, David Hood, was the bass player for The Muscle Shoals Rhythm Section and later was a co-founder of Muscle Shoals Sound Studio. What was it like growing up in that environment, with all these famous bands coming in and out (of the studio) and your dad being a southern rock legend in his own right?
Hood: Yeah, I was well aware of what was going on. I really kept up with it as much as I possibly could because I was really interested in it. I always wanted to do this, too. But, at the same time, I wasn't really there. I was at home; I was a kid; and I wasn't really allowed to be [at the studio].
Getting info from my dad about what was going on was sometimes next to impossible. I'd have to find out from other means [chuckling]. Because Dad was very much into keeping home separate. He was old school. In his day, you didn't take work home with you. I hardly saw him pick up an instrument at home or anything like that.
He really didn't want me to go into music, either, so he wasn't particularly supportive of me doing it for a long time. Probably up until Southern Rock Opera. [The band's third album, released in 2001.]
O&A: Soon after Southern Rock Opera, you recorded Dirty South in FAME Studios, which is where your dad and The Muscle Shoals Rhythm Section got their start. Was that an attempt by you to tap into or reconnect with that southern rock history?
Hood: Yeah, you know, I grew up practically down the street! I mean I always had wanted to record there. So once we had the means to do it, we just did.
I still now want to record at 3614 now that they've reopened that [3614 Jackson Highway, the location of Muscle Shoal Sound Studio, which his father helped start and run]. I really want to go record there. Just as I have a list of places I hope we can record, you know, before time runs out. We got to record at Electric Lady a couple years ago, and that was cool. And we made our last record at Sound Emporium, and that was really great. So I've got this list of legendary studios that I'd like to capture while they're still around.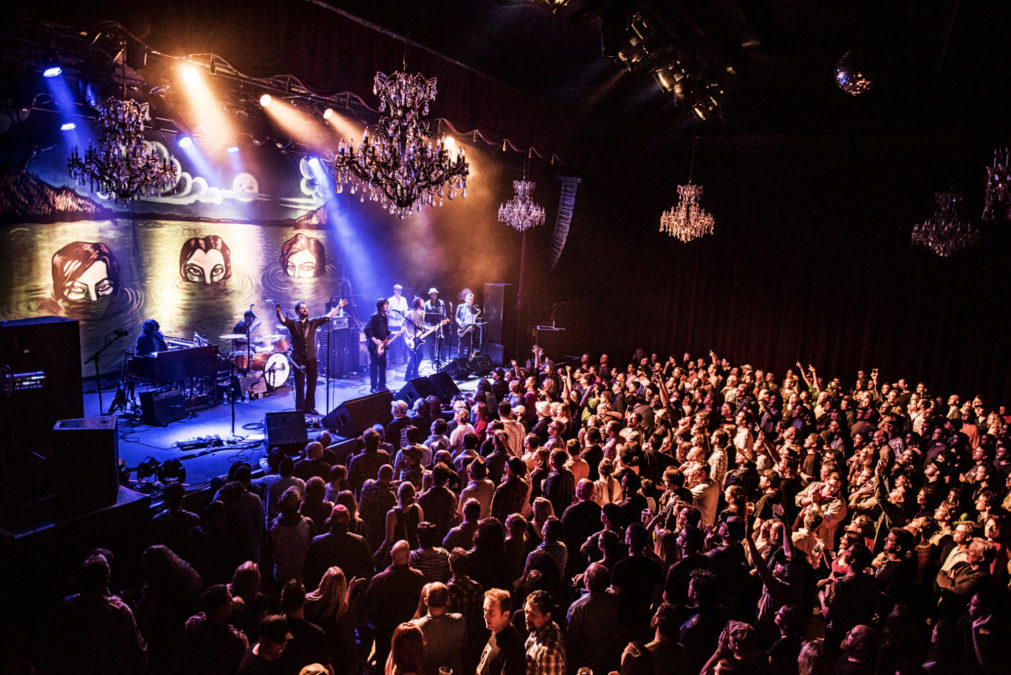 O&A: Do you find that recording at different studios affects the vibe or the final output to the point that it influences the overall theme of the record?
Hood: Oh, yeah. I'm sure it does. Everything affects it. At the same time, we made one of my favorite records in my living room. So it has to do with so many things as far as what we bring to the table. But the room can certainly affect things, positively or negatively, depending on the experience.
O&A: You and Mike Cooley co-founded Drive-By Truckers in 1996. But before that you were in a band together called Adam's House Cat, which Musician magazine had listed as one of its Top Ten Unsigned Bands back in the late '80s. What was it that brought you and Mike together, creatively?
Hood: Boredom and being broke. We met as roommates. I moved in with a guy I knew from college, and Mike was his other roommate. And that's how we met. He had a guitar, and I had a guitar. We were broke, so we didn't have money to go out. We'd buy a case of really cheap beer and sit in the living room and pick and jam.
I'd always written songs, so I was eager to mostly play my songs anyway, and he didn't really want to play a bunch of covers. He kind of thought it was cool that I had a bunch of songs. Even before any of us were worth a shit at it, I liked what he did with my songs. I liked his approach to what I was writing. He attacked them in a way that I thought was very appropriate for what I wrote. It was kind of counter-intuitive because he would almost always do the opposite of what I heard in my head, but I liked that.
Shit, we've been playing together for 33 years! This is our fourth band. We had two bands between Adam's House Cat and Drive-By Truckers that were, like, dismal failures. But we just kept coming back to it. It worked.
Ironically, we didn't necessarily get along back then. It wasn't like we were unstoppable close friends. We were close, because we played together forever. But it was kind of a—I don't want to say stormy close—but we were like brothers who didn't necessarily get along. I'll put it that way.
It was that kind of relationship for a really long time. We were roommates for three different points of time, but we weren't necessarily good roommates, either [laughs]. We were roommates that sometimes wanted to kill each other.
It's all really funny now because I would say we're super close now. We get along great now. But that was kind of the last piece of the puzzle. We figured out how to play together long before we learned how to get along [laughs].
O&A: You guys recorded the single "Perilous Night" in November. A lot of people have been talking about how political it is, how strongly worded it is. Then you donated proceeds of the 7-inch single to the Southern Poverty Law Center. How does it feel to do that—to come out and really say how you feel and, at the same time help an organization that you believe in like that?
Hood: Right. I mean to me that's kind of the whole point to what we do. Writing was something I did because it made me feel better. It was a way for me to express what I was thinking about: either what was bothering me, or pissing me off, or hurting my feelings, or making me sad or depressed or whatever. Occasionally what makes me happy. But usually it's a way of dealing with the more negative things.
So to be able to back it up with some modicum of action was good. Our donation to the Southern Poverty Law Center isn't going to be a game-changer [laughs] Unfortunately. I wish it was. But at least I think we're doing what we can.
We try to support various good causes. There's no shortage of people who need support. We've been raising money for Nuci's Space, a suicide-prevention non-profit from Athens, for 20-plus years now. That's always been our pet cause. But it's good we're able to add a few more things, too.
This is the second thing I've done for the Southern Poverty Law Center. I did a song for them about a year ago—a solo thing—that was for a little EP they put out with Bonnie Prince Billy, myself, William Tyler and a couple of other artists. Really good artists. I was really proud to be part of that.
And it was the perfect use for a song like "Perilous Night," because I'm not trying to profit from our country's current failure of judgment [laughs]. I'm trying to support my family, but I'm happy to do whatever I can that helps fund the resistance.
I really didn't see that song as being part of the next record. It's more of an epilogue to the last record.
Patterson Hood and Drive-By Truckers play The Queen on Wednesday, March 28. For more info and tickets, go to TheQueenWilmington.com.