Wilmington's Chuck Selvaggio and his nonprofit are improving conditions in the impoverished Central American country
Chuck Selvaggio, a former teacher at Salesianum School and Nativity Preparatory School of Wilmington, traveled to Nicaragua to learn Spanish in 2011. Fortunately, the trip turned into something much more.
He was immediately struck not only by the rampant poverty and the number of homeless youth, but also by the resilience of the Nicaraguan people. Upon returning home, he created the charity Neighbors to Nicaragua in April of that same year, and he recruited friends, family members, and former colleagues to volunteer their time and money to support grassroots organizations working to improve the education and infrastructure of the communities he had visited.
Today, Selvaggio is the executive director of the charity, in addition to working as a full-time massage therapist from his home studio in Wilmington.
Selvaggio and his charity quickly began the process of supporting several Nicaraguan schools by raising money for supplies and medicine. His efforts also resulted in Americans sponsoring children of promise by funding their education, giving a strong chance to worthy students who otherwise would never have had the opportunity to get a decent education.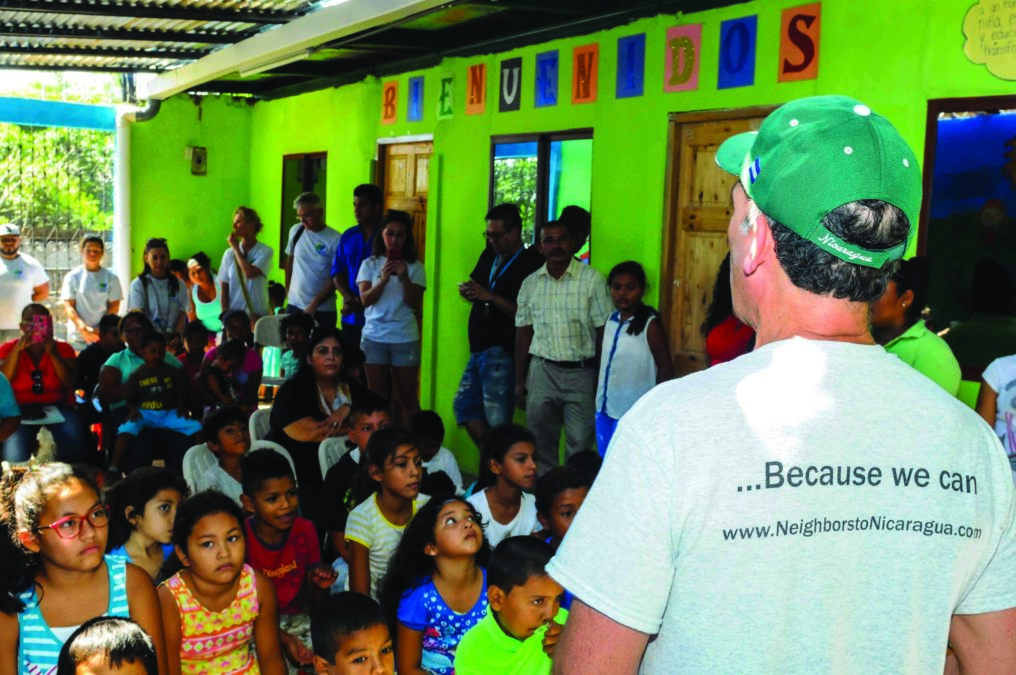 "I have never met someone as selfless as Chuck, and I'm inspired by his amazing example of how one person can make a difference in the lives of so many," says Michael Lucey, co-owner of Hockessin's Six Paupers, Brandywine Hundred's Ulysses Gastro Pub and the Rehoboth Beach Forgotten Mile Ale House. Lucey experienced the deplorable conditions in Nicaragua first-hand on a trip with Selvaggio, and like many others was inspired by his example. As a result, Lucey became a member of the Board of Trustees for Neighbors to Nicaragua.
The scope and focus of the organization has grown since its inception in 2011. Its most recent accomplishment was the completion of a new school on Jan. 30. The project originated with Board Chairperson Alison Warhol, a scrum master in the Technology Department at Barclays Bank. She recognized the need and potential the school could provide to locals ranging in ages 5 to 50. Selvaggio and Warhol oversaw the completion of the school, called Centro de Oportunidad (Center of Opportunity), which will train students in vocational skills, math and computer competency. Along with six other board members, they attended the opening of the school. 
"Our goal for the students at Centro de Oportunidad is to provide them with sufficient basic skills to either continue with a traditional education or to gain employable skills through experience," says Selvaggio.
In addition to the educational support, the school also will provide lunch-time meals, which for most of the students may be the only meal they receive all day.
The school was completed thanks to a $30,000 donation by Rockefeller Philanthropy Trust, and the annual budget of $35,000 is currently paid by the Matthew Haley Trust.
"Grassroots donations are the lifeblood of Neighbors to Nicaragua, and the growth of our support base determines the continued success of our mission," says Selvaggio, who explains that no volunteer or board member receives a salary, and all travel to the region is paid for by the volunteers themselves, so all donations go directly to Neighbors to Nicaragua.
The charity will host an Oldies Night concert at Wilmington Elks Lodge, 1310 Carruthers Dr., on Friday, March 2, from 7 to 11 p.m. Tickets are $35 per person, or you can reserve a table of 10 for $350. All proceeds from ticket sales and donations will benefit Neighbors to Nicaragua. Each ticket includes two complimentary alcoholic beverages and buffet style fare. For reservations, contact Sarah Brooks at selvaggiosarah@gmail.com or call 983-5794. 
For more information on how you can help Neighbors to Nicaragua, visit the website, NeighborsToNicaragua.com, or the Facebook page.