Using a three-hour-a-week model, Wilmington's Dual School provides a nourishing environment for young innovators
High school kids going to class in a downtown office building?
It sounds strange, but this is Wilmington, where, in the last four years, charter schools have taken over three former MBNA/Bank of America buildings as well as the onetime headquarters for Blue Cross-Blue Shield of Delaware.
But what's going on at 1313 Innovation, the business incubator space on the first floor of Hercules Plaza, is quite different from anything tried before in Delaware education.
Called Dual School, the pilot project is being financed by Delaware real estate entrepreneur Paul McConnell, whose business owns and manages Hercules Plaza. Its creators are Catherine Lindroth, the out-of-the-box thinker who developed the Summer Learning Collaborative to elevate educational experiences for low-income kids who spend their summers at community center camps, and Meghan Wallace, a onetime aide to former Gov. Jack Markell. Its entrepreneurial mindset is enhanced by staff and graduates of the University of Delaware's Horn Program in Entrepreneurship, and its inspiration comes from High Tech High School in Chula Vista, Calif., whose fulltime curriculum Dual School is trying to capture in a three-hour-a-week model.
For the fall semester, 13 students recruited from seven schools—two private Catholic, three charters, one magnet and one traditional high school—left their regular classrooms and headed to 1313 Innovation, where they not only learned how to become entrepreneurs, they also got to work on projects they created for themselves, along the way making valuable contacts with experts in those fields.
To understand Dual School and what's behind it, start with McConnell, who has been promoting entrepreneurial ventures at Hercules Plaza for at least five years and who has supported unconventional ventures on behalf of low-income kids, like Nativity Prep, the tuition-free private middle school for boys on the city's West Side.
McConnell firmly believes a strong education system is essential to successful economic development. "Cities and states where education and economic development are connected are the ones that are flourishing," but it's not happening yet in Delaware, he says.
Plug-In Program
Dual School could be a first step toward making that happen.
From its modest start in September, McConnell and Lindroth hope that the Dual School concept can be refined as it expands. Their goal is to create what's known as a "plug-in" program—an academic component created by an outside entity that can plug into the established curriculum at any high school that wants to use it.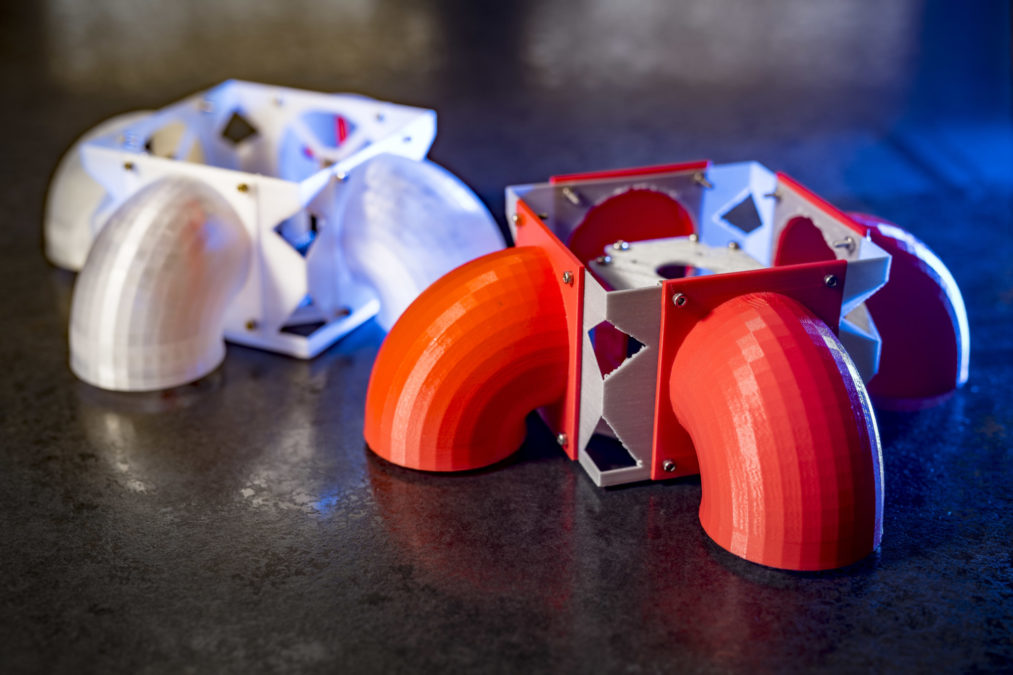 The first test of the plug-in approach is now under way. In addition to having a second group of students meeting at 1313 Innovation for the spring semester, Dual School is piloting its offering with a class at William Penn High School in New Castle.
Dual School's approach provides students with both motivation—by letting them pick their own projects—and challenge—by giving them control over how the work gets done.
Zach Jones, a 2017 UD Horn graduate who is serving as Dual School's interim executive director, says there are three ingredients to the school's "secret sauce": students work together on projects they really care about; they make connections with professionals who are experts in their project area; and they learn how to rapidly make prototypes, and revise them on the fly, as they move forward with their projects.
Take, for example, Salesianum School senior Michael Wiciak, who read about a toddler who lost an eye in November 2015 when the child's retina was sliced by a drone's propeller blades. He spent the semester trying to build a rotorless drone that uses indirect propulsion, hiding the motors and propellers inside the frame to create a device that is safer for its users.
Through his project mentor and connections at High Tech High, whose staff members served as consultants on Dual School development, Wiciak hooked up with Tom Ayling, a director at Aerial Applications, a drone manufacturer and service provider in Philadelphia. "I had the best phone call ever with him as he told me to keep going because of the potential my project has, and he has put me in contact with some top engineers around the area," Wiciak says.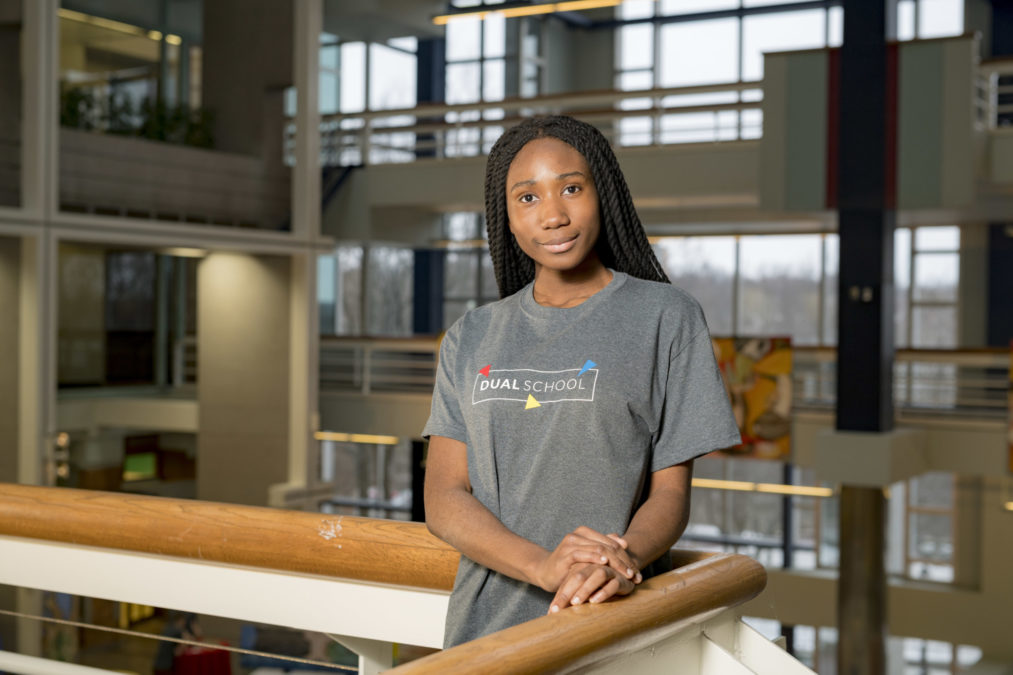 By late January, Wiciak had developed a prototype for his drone, which was on display at Dual School's semester-ending Discovery Day in the atrium at Hercules Plaza.
Solving "Adults' Problems"
Wiciak's work is an example of what McConnell sees as students "trying to solve what I would call 'the adults' problems.'"
New Castle County Executive Matt Meyer dropped in on the Discovery Day program and made a related observation. "This is the future," Meyer said after checking out the projects. "Business leaders should be looking at their ideas."
Several other Dual School participants developed projects that, while not necessarily tackling "adults' problems," addressed issues that adults would like to see the education system solve.
Siawaa Antwi, a junior at Freire Charter School, recognizing the problems her mother and others in lower-income families had paying their bills, developed a financial literacy class for low-income youth.
"There is so much to learn," she says, mentioning "checking accounts, investing, bitcoins," and pledging to spend her spring refining her prototype, making the curriculum less of a lecture and more of a conversation.
Miracle Olatunji, a senior at the Charter School of Wilmington, addressed an issue that has long challenged students and their parents: identifying the summer experiences, internships and scholarships that best fit a student's talents and aspirations. She has created a newsletter for her project, called OpportuniMe. It already has more than 230 subscribers and she is now building a website to expand its reach. What started as a project focused on New Castle County could have relevance throughout the region, and perhaps from coast to coast, she says. Olatunji's initiative and creativity led to a profile on a Forbes magazine website in January.
"I started small. Now I'm able to think bigger," she says. She talks confidently about value propositions, efficiency, quality and accessibility. "I want to turn this into a mission-driven company," she adds. Her next step: writing a business plan.
Like most of her Dual School peers, Antwi says what she appreciated most was the opportunity to work on her own project while being surrounded by supportive mentors and peers. "You care more, you do more, if it's yours," she says, adding, "they don't put pressure on you. They support you."
At the start, no one was quite sure what they were getting into.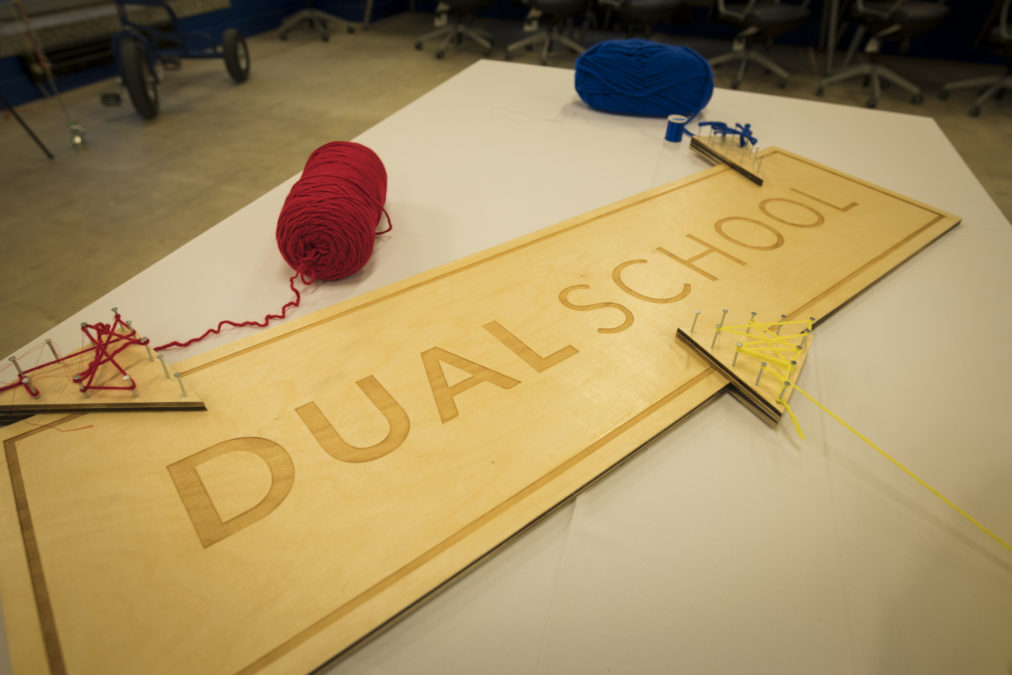 "For the first five weeks, I had no idea where the program was going," says Dorcas Olatunji, Miracle's younger sister and a sophomore at the Charter School of Wilmington, "but I knew I was surrounded by people who would help me get there." Her project started out as an examination of issues related to prejudice but morphed into the development of a series of activities that could be used during school homeroom periods to break down communications barriers between different groups of students.
Parents felt the same way. "At the first parent meeting—the only parent meeting—we had, it was really nebulous. It seemed like it was not very well designed," said Tammy Rossi, Noah's mother. "It was fascinating to watch" her son move forward with his project, she said. "It was an amazing experience, something he wouldn't have gotten in school."
Benefits Outweigh Fears
Officials at the participating students' schools had some concerns when they first learned about Dual School. Afterward, they indicated that the benefits outweighed any fears they might have had.
Ryan Mitchell, director of college guidance at Newark Charter School, said he worried that students would miss regular class time for an entire afternoon one day a week. But he found that the students learned differently—and may have learned more—in the nontraditional, off-campus setting.
"They connect to visionary thinkers and gain new levels of insights. They learn how to get big-time projects off the ground," he says. And, as it turned out, the students were responsible enough to make up any missed classwork with no negative impact on their grades.
"It might not work for all schools," says Eric Anderson, vice president (the equivalent of principal) at the Charter School of Wilmington, "but every school has a population that would benefit from it."
Erin McNichol, who has been teaching innovation and creativity classes at Ursuline Academy for two years, served on the Dual School planning team and has continued with the program as a mentor.
Dual School provides a strong complement to Ursuline's current offerings, she says, and has the added benefit of "getting kids outside the classroom" as part of their learning experience.
Dual School, says Lindroth, is "fundamentally transforming, an extremely powerful tool that districts and schools can use to bring their curriculum and experiences into the 21st century."
For now, the project faces two interrelated challenges: securing corporate and foundation support to grow the program and proving to the state's education community that its model is workable—both in terms of fitting into school schedules and demonstrating that it merits becoming a class for which students gain credit toward graduation. That could take a couple of years.
If Dual School successfully makes its case, its leadership team —Lindroth, Wallace and Jones—sees multiple paths forward. The program could continue to operate as it has at 1313 Innovation, but with multiple groups of students meeting there each week. Or it could assemble a cadre of teachers who could move from school to school, teaching several classes a week. A third option would be for Dual School to become a teacher-training organization, providing professional development and mentoring to teachers working at area high schools. And, they say, developing a variety of classes, all with entrepreneurship at their core, is also possible.
However it develops, McConnell insists that the program will do all it can to meet the needs of low-income students who are seldom exposed to entrepreneurial opportunities. "We need to put these kids into the right environment with the right opportunities," he says. "They're just as smart as anyone else."
And if it works…well, the idea of promoting economic development by creating a school project in a corner of a high-rise office building won't seem strange at all.