Brainchild of two Wilmington natives, Stitch House combines microbrewery and pub
In 2016, the Brewers Association—a not-for-profit trade association dedicated to small and independent American brewers—reported that, on average, Delawareans drink 11.1 gallons of craft beer annually, good for sixth in the nation. Additionally, since 2007, the BA has tracked the number of breweries operating in each state, with Delaware's total jumping from just seven to more than 20 in that span.
Obviously, Delaware's beer drinkers not only support the craft industry, but with each passing year, they're thirsty for more.
Enter Stitch House Brewery, which will give Wilmington's Market Street its own microbrewery. Expected to open early this month, Stitch House is the product of local entrepreneurs Dan Sheridan and Rob Snowberger. The Delaware natives will join forces with Head Brewer Andrew Rutherford, who worked for more than a decade at Yards Brewery in Philadelphia.
Sheridan has been around the Delaware dining scene for quite a while, having worked at La Fia on Market Street, after which he opened Locale BBQ Post as well as the Wilmington Pickling Company. Snowberger, meanwhile, is a former Navy SEAL who also attended the Wharton School at the University of Pennsylvania. The two grew up together in Wilmington and were raised by fathers who worked for the city.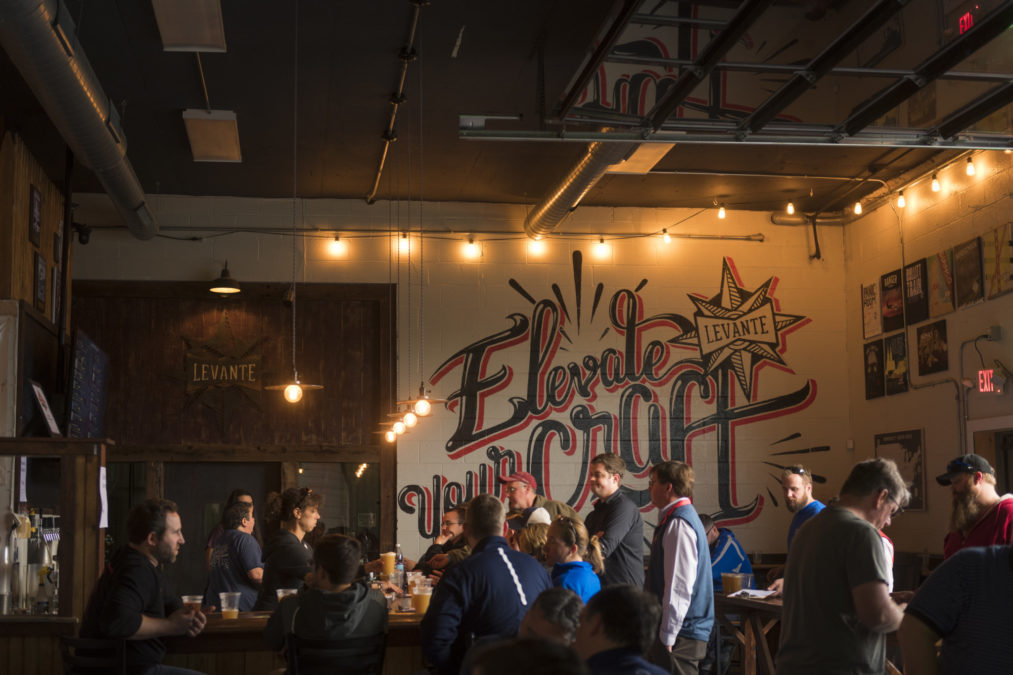 "We'd talked about opening a place together for years, but Rob was the first one to see this site at 829 Market through his connections with the Buccini/Pollin Group (BPG)," says Sheridan. "When I first took a look at the building, I knew there would be a lot of work to do. Fitting out four floors to fit apartments and a huge brewpub and brewery was an enormous undertaking." (Stitch House encompasses the first floor and part of the basement for storage, while BPG outfitted the upper two floors for apartments to lease.) 
Seating for 170-plus
That work would include months of renovations and construction on a building erected in 1909 that had served, at various times, as a coal house, ice house, tailor shop, and even a linen shop. Sheridan and Snowberger, after discovering the building's past lives, decided on Stitch House, as a tribute to its history. The result is a full-scale restaurant that will seat upwards of 170, including more than 40 in the bar area and a back room for private dining.
"The guys at BPG told me they wanted to open up a microbrewery on Market Street, to specifically cater to all that was going on downtown, especially the huge Residences at Mid-Town Park project right outside our back door," says Sheridan. "Once I understood the scope of that project, I went with it."
According to Buccini/Pollin, the Residences at Mid-Town Park will feature 200 luxury studio, one-bedroom and two-bedroom apartments, with a 511-space parking garage below and 12,000 square feet of ground floor retail along Shipley Street. The parking garage is expected to open this month, and the first phase of the apartments is expected to be ready in June, with the remainder finishing up over the summer.
Once Sheridan and Snowberger embarked on their new culinary journey, they quickly began scouring the area for an experienced brewer looking for a new challenge. Fortunately, they were able to woo Rutherford, a 10-year veteran at Yards.
"I was in a rut and needed a change, so I began entertaining the idea of making a move and maybe recapturing a little creative freedom in the brewery," says Rutherford. "The guys came to me with their plan for Stitch House and we just jelled. This is a good fit and I'm really excited to see what we can accomplish on Market Street."
Sheridan and Snowberger are ecstatic to have been able to bring on Rutherford, who put in many 18- and 20-hour days leading up to the restaurant's opening. "The guy is a machine," says Sheridan. "He's super talented and we are beyond excited to have him on our team."
Rutherford says that to start, Stitch House will fill nine of its 12 taps with house brews, including a lager, pilsner, stout, IPA and pale ale, among others. The remaining three taps will be filled with local brews, and they will only offer draft beer, rather than any outside bottles or cans.
Adds Sheridan: "Our hope is to have all the taps filled with our own beers by late in the spring, and then begin offering crowlers (large cans) to customers, so they can take our beer with them."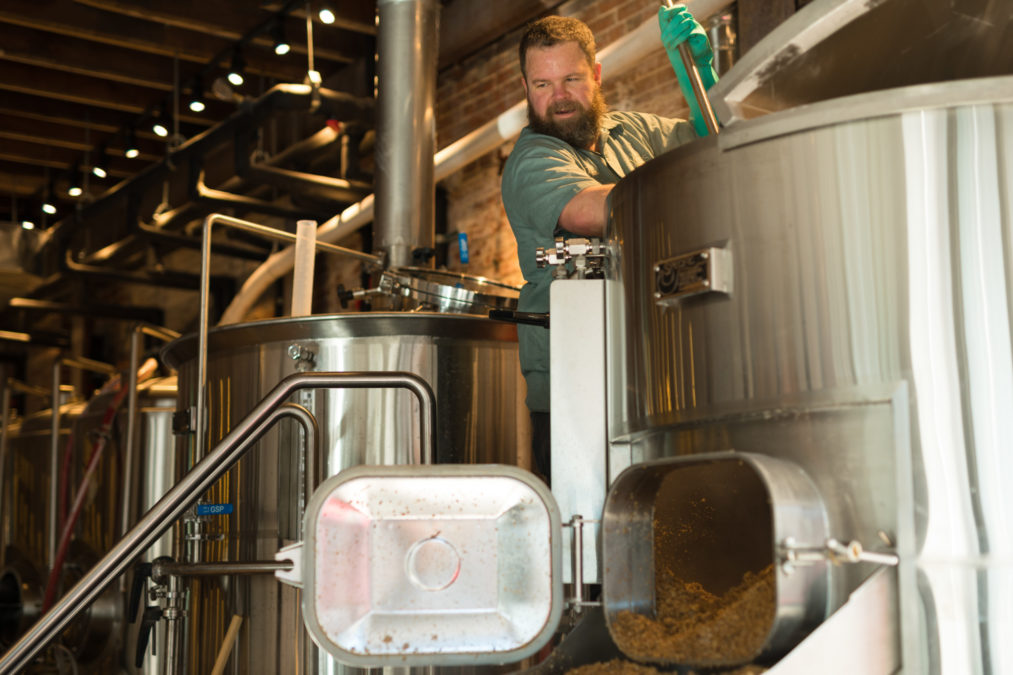 Adding a Smoker
As for the menu, Sheridan, a chef by trade, will focus on catering to the downtown lunch crowd; several sandwiches, burgers and paninis will be featured, as well as skillet dishes like dips, nachos, and even scallops and the increasingly popular sautéed Brussels sprouts. While they're forgoing a pizza oven (found at many brewpubs), Sheridan says an on-site smoker will contribute heavily to the menu.
"I don't necessarily want to do barbecue, because I leave that to Locale BBQ, but I do want to offer a lot of good smoked meats that will be seasoned and prepared to specifically pair with our beers," he says. "The skillet dishes are designed for sharing and will fall into the comfort food category because we want to establish a laidback vibe here."
The interior features murals and beer menu boards designed by Against the Grain Arts, of Wilmington, a logo designed by Snowberger's sister, Molly, and design work by Stokes Architecture, of Philadelphia. Many of the high-top bar tables and booths were crafted by the Challenge Program, a Wilmington-based organization that offers at-risk teens the opportunity to learn life skills like carpentry and construction.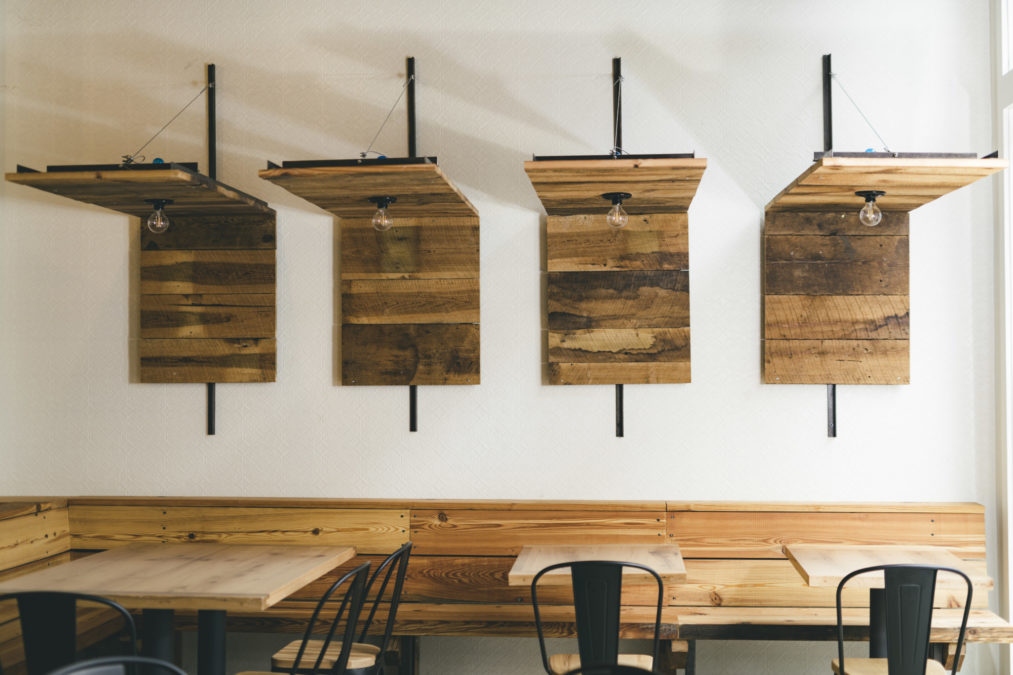 Stitch House will be open seven days a week and possibly for brunch on the weekends. Sheridan says they will offer some sort of discounted parking validation at the Parking at Mid-Town garage, as well as some other Colonial Parking garages in the city. They are also looking into the possibility of offering valet service on weekends.