When it comes to charitable contributions, many people find that a gift of time is more meaningful and can have a greater impact than a cash contribution. In the coming months, Out & About will continue to profile some of these volunteers, along with the program in which they serve. The series is run in cooperation with the state Office of Volunteerism, and we hope it will show readers how they can improve their communities by volunteering their time and talents. For information about volunteering opportunities throughout the state, visit VolunteerDelaware.org.
Volunteers are essential to Ronald McDonald House as it hosts loved ones of seriously ill children
Sara Funaiock describes the Ronald McDonald House of Delaware as "a very specialized hotel," and that's not solely because of its client base, the families of seriously ill children who must go to the Nemours Alfred I. DuPont Children's Hospital across the street for treatment.
What helps make the 50-room residence special is that it has only seven people employed full-time to keep it running. "Most of the day-to-day operating parts of the house are accomplished by volunteers," says Pam Cornforth, the organization's president and CEO.
Volunteers who check in families when they arrive, volunteers who show the families to their rooms, volunteers who answer the phone, make coffee and even bring the food and cook dinner for an average of 85 people every night.
"We couldn't do what we're doing without them," says Funaiock, the house's volunteer manager. "They're part of a team that operates in a very special environment."
The volunteer army is 430 members strong, she says, and they provide "heart and soul, and a lot of things we take for granted that bring comfort to families."
And there are plenty of families to serve. In 2017, 1,726 families stayed at the house, with the average stay a little over 10 days, Cornforth says. Many families stay a couple of days at a time, while others, depending on their child's condition, may stay seven or eight months, perhaps longer.
No matter how long a family stays, it's up to the volunteers to make them comfortable, so they're rested and ready for whatever the next day brings.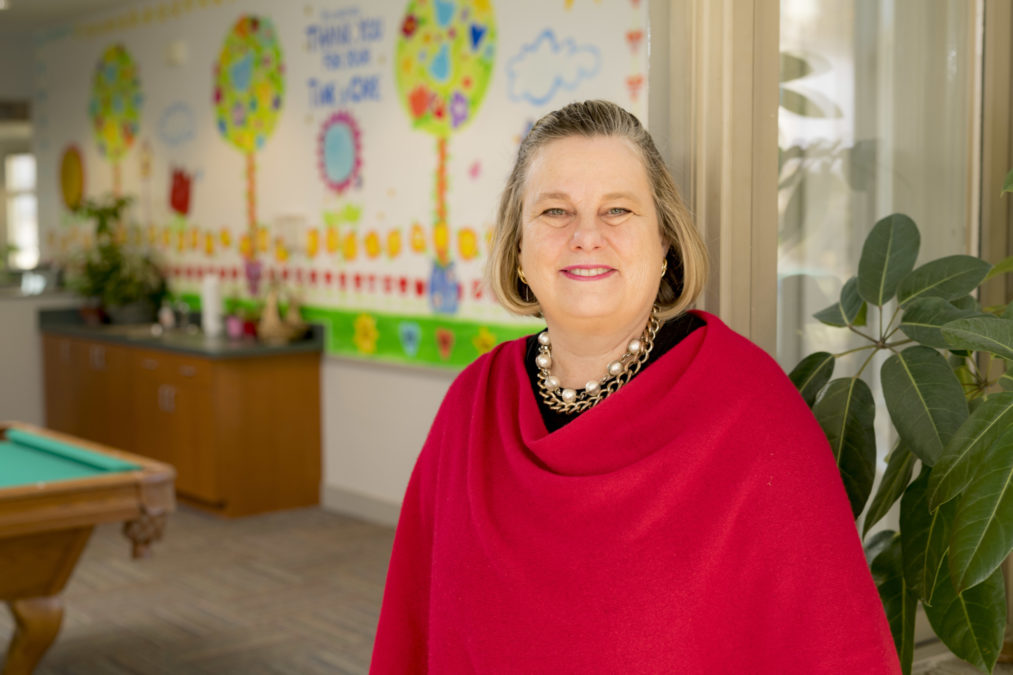 "I'm strictly a kitchen volunteer," says 54-year-old Gretchen Parisi, a freelance healthcare writer from Kennett Square, Pa. Every other Wednesday morning, she arrives at the house to "clean every nook and cranny, every microwave, every counter. I clean out the refrigerators when a family checks out."
She says she finds it rewarding "to make families' time here as pleasant as it can possibly be under the circumstances."
Able? Then Volunteer
Dawn DeMuth, a 55-year-old from Landenberg, Pa., who, like Parisi, has volunteered at the house for three years after a career of working for nonprofits, shares her colleague's sentiments. While taking a break from cleaning the kitchen, she asserted that "if you're able to give, you should volunteer. I'm fortunate that I have the time to be able to help."
While Parisi and DeMuth are regulars on the cleanup team who pitch in wherever else they're needed, there's no telling what Dan Szymanski might be doing on any given day.
Szymanski, 60, from Bellefonte, "is our uber volunteer," Parisi says.
Indeed, the retired oil refinery equipment operator estimates he now puts in about 750 hours a year at the house—and he started 15 years ago. His service is so valued that last year he was named the winner of the house's Big Shoes to Fill Award. The recognition includes naming one of the house's guest rooms in his honor for a year.
"I may be here a lot," he says, "but I'm not allowed to sleep in it."
Szymanski is at the house three days a week, sometimes for two or three hours, sometimes for eight. It depends on what's needed on a particular day.
"He's great. He knows so many parts of the house," says Katie Johnson, the operations director.
Cleaning the kitchen, working the front desk, setting up and taking down holiday decorations, helping at special events, driving families to the hospital, the supermarket or the mall, even giving tours—Szymanski can do it all.
"He gives a great tour," Johnson says, noting that Szymanski's commentaries have resulted in the recruitment of numerous new volunteers and committee members for the house.
A Life-Changer
Volunteering at the Ronald McDonald House changed his life, Szymanski says, transforming him "from a selfish person to a very giving person."
"Community service is something people say they want to do, and it often gets put on the back burner," he says.  "Then, when I was 43, my parents died, my brother had a brain tumor, I lost my job, I got a divorce, so my whole life collapsed."
He left a big house in Middletown and was living in a subsidized rental housing unit when he called a friend, Diane Thompson, who was then the house's operations manager. "I came up here one day, to play my guitar for the kids, not knowing there aren't too many kids here during the day, and they wouldn't let me out the door," says Szymanski. "They heard I could fix things, and they say, 'before you leave, can you fix this?' Fifteen years later, I'm still here."
Working at the house makes Szymanski and other volunteers thankful. "When I first saw boys 8 years old who were excited because they weren't going to have any more chemo, I started to realize that I would be OK," he says.
While Szymanski, DeMuth and Parisi may be typical of the house's volunteers, the program's support comes in many different ways.
Teen volunteers, many of whom start through a 10-week summer program, are welcomed, especially since many enjoy working on craft projects or playing games with the siblings of children being treated at the hospital.
Groups provide a notable service by cooking dinner each night. Sometimes it's a business group, or a family, or a social club, or even a team of nurses from the hospital, but it usually takes a team of about 10 people who buy the food, bring it to the house, prepare it in the oversized kitchen and serve an average of 85 people a night. Staff members give the dinner crew serving tips before they arrive and explain the basics of safe food preparation before they start cooking, Funaiock says.
She is proud that the house's volunteers seem to serve as the program's greatest ambassadors, often recruiting another family member, a roommate or a friend or neighbor to join the team.
"When they see what our families are going through, they immediately know that they are bringing comfort. It's not that they're solving a problem, but they're going one step toward helping them," she says. "They know they're part of something bigger, a community coming together to help these families."
Seeking Volunteers
The Ronald McDonald House is seeking volunteers who can make a regular commitment to a minimum of two three-hour shifts each month for six months to one year. The house has a particular need for adult volunteers, post-high school, over 18 years old, on weekend shifts, from 6-9 p.m. Friday through 6-9 p.m. Sunday. Enrollment begins March 1 for summer teen volunteers, who are asked to commit to serving one three-hour shift weekly for 10 weeks.
More details are available at the Ronald McDonald House website, rmhde.org, or by contacting Sara Funaiock, s.funaiock@rmhde.org.
Buy a Shamrock Shake, Help Ronald McDonald House
If you stop at a McDonald's restaurant this month, top off your Big Mac or Happy Meal with a Shamrock Shake. You'll be helping the Ronald McDonald House. The campaign is the result of a partnership among Children's Hospital of Philadelphia, the Philadelphia Eagles and McDonald's that led to the opening of the first Ronald McDonald's House in Philadelphia in 1974.