Hazy New England IPAs—once hard to come by—are getting a boost from local brewers, including West Chester's Levante
My wife and I have a game we play. Perhaps there's someone in your life with whom you play it, too. It's called "can I have a sip of that?"
It's usually played when I'm drinking beer and she's drinking wine. She asks for a sip from my pint or bottle, hoping what she finds might be to her liking. Since I am invariably drinking an India pale ale, I usually warn her: "You won't like it. It's pretty hoppy."
Nine times out of 10 she agrees, after scrunching up her face at the upfront bitterness and handing the vessel back.
It's not an unusual scenario in the beer world. Maybe it's a non-beer drinker looking to branch out, or someone who started his beer drinking at college keggers with fizzy, soda-like pilsners. Either way, that first hoppy slap in the mouth of an IPA was off-putting and perhaps dissuaded someone who was honestly trying to broaden his or her taste from expanding further.
It was almost as if brewers, for the longest time, were issuing a challenge, with each IPA coming out with more of a hops punch than the last. Drinkers, it seemed, were being dared to take a bitter hit, say thank you and then get up for more.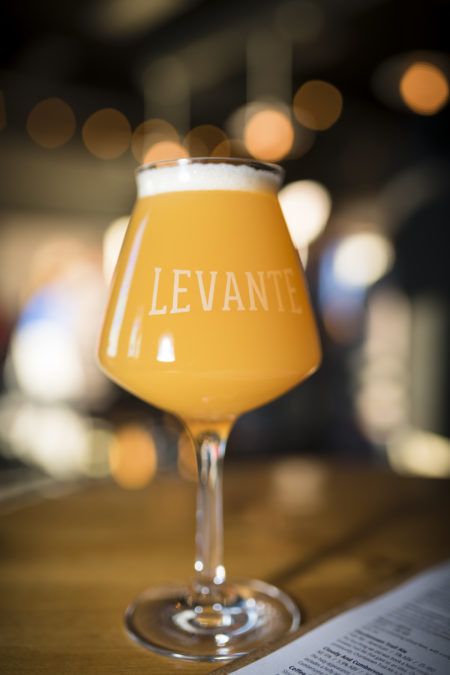 But along the way, brewers in Vermont were taking a different tack. In 2011, at The Alchemist brewery in Waterbury, there emerged a new brew called Heady Topper, which flipped the script on an IPA's typical hops flavor. It was a brew that, while still technically an IPA, presented something far different from what most craft beer drinkers were used to. Instead of a clear amber color, crispness on the tongue and bitter bite, this new IPA, which poured cloudy, proffered front notes of floral, fruit and citrus, and a creamy, dessert-like mouth feel.
Once word got out, the lines started to form. Drawn by murmurings in the beer world, fans of the new IPA—who, seeking to distinguish it from its more bitter West Coast version, began calling it Vermont or New England IPA—lined up for the hard-to-get canned releases. Nearby brewers got wind and reverse engineered their own versions of this new variation on the venerable IPA.
Picking Up on the Trend
With the emergence of what has come to be known as the New England IPA, however, those reluctant beer drinkers who up till now suspected the craft beer world was a hop lovers-only affair might change their minds. And fortunately for those who've already discovered the creamy, cloudy delights of this evolution in the beer world, local breweries and beer drinkers are picking up on the trend.
Beer aficionado Dana Dillon is a perfect example. The resident of Lincoln University, Pa., just over the state line from Newark, grew up in Ohio as a drinker of wine and "crap beer—mostly because wine was too expensive," she says. Later, she moved up to more flavorful—but still corporate—beers like Killian's Red and Blue Moon. But it wasn't until she moved to Pennsylvania and discovered Downingtown's Victory Brewing that she fell in love with craft brewing.
"Victory was my gateway," she says. "I was like, 'There are good things?'"
As she worked her way into craft beer culture, it didn't take long for her to get word of Heady Topper and—because it has never been sold outside of a 25-mile radius from the Vermont brewery—its almost forbidden delights. Fans formed queues for canned releases like they were camping out for Springsteen tickets, traveling across states and trading for cans when they couldn't make the journey, turning the pursuit of a true New England IPA into something akin to Jason and the Argonauts chasing down the mythical golden fleece.
But in the early days before Heady Topper became such a commodity, it met with something of a marketing problem. It was cloudy.
"People are used to clear beers and [the brewery] didn't want you to pour it in a glass if you hadn't had it because it was cloudy," Dillon says. "But then people got used to that cloudy thing and it's sort of taken off from there. They're very drinkable, and I think that makes it a little more accessible to people who think they might not like IPAs. It can have such a variety of flavor—you can have coconut, citrus, strawberry—and it fits in better with that style than a hoppy West Coast IPA."
While the quest for home-grown New England IPAs continues (The Alchemist has instituted a three four-pack limit on Heady Topper purchases), nearby brewers have begun their own experiments in the New England style.
Taking It to Its Limits
Along Philadelphia's Main Line, Ardmore's Tired Hands Brewing Co. has begun offering a couple of styles that, while not labeled as such, hew to the new traditions of the New England IPA. American pale ale HopHands throws in oats and three kinds of hops with a juicy finish that suggests notes of citrus, honeysuckle and kiwi.
And not be outdone, Tired Hands has, with its Fruit Punch Milkshake IPA, taken the style to its limits, with oats, hibiscus and lactose sugar added in the brewing process. The nearly-finished brew is conditioned with Madagascar vanilla beans and a variety of tart fruit purees, then dry hopped with Mosaic and Citra varieties.
Down the road in West Chester, Pa., the brew masters at Levante Brewing have crafted their own takes on the New England IPA with their Cloudy and Cumbersome, Spring Till and Tickle Parts varieties.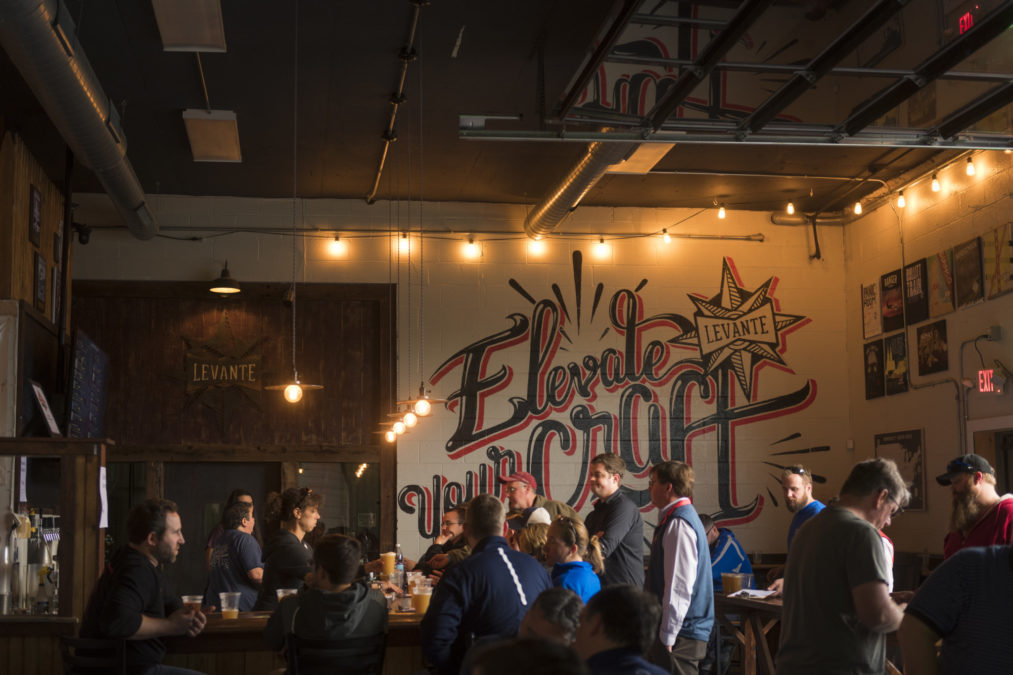 The first batch of Cloudy and Cumbersome, cooked up in the brewery's one-barrel (31-gallon) brew kettle, was Head Brewer Greg Harris' attempt to recreate the flavors of a Dark 'n Stormy cocktail in beer form, says Assistant Brewer Spencer Holm. The original batch started with a wheat-and-oat-heavy malt base aged in a rum barrel, which was then finished with lime leaves, ginger and additional hops.
"It was such a big hit that we scaled up the original malt base, got rid of the ginger and lime leaf and kicked up the hops," Holm says.
That was the fall of 2016, and the initial demand was so great that the brewery found it impossible to keep up. The variety went into a periodic brewing schedule, but staff noticed that customers in the taproom were enjoying it on tap, in growlers and in on-demand-canned "crowlers." At the same time, local bars and restaurants that stock Levante's draft selections were looking for a locally-brewed New England IPA to serve. "It's hard to find a New England IPA available for production, so since then we've been brewing it almost every week," Holm says.
Low Bitterness
As for its appeal, Holm notes that the first thing that always comes to mind is the low bitterness, despite the IPA's reputation for the opposite. That's a result of adding the hops later, preserving the flavor profile while not allowing it to break down over the brewing process. The variety's signature creaminess is achieved through the combination of specialty grains, such as oats and wheat, and by adding lactose sugar to the boil.
"It may seem like dumping a lot of hops in later would be the golden ticket, but what we're trying to do is find a balance between the varieties of hops and the malt interaction, so all the ingredients are still noticeable," Holm says.
"It just seems to hit the spot taste-wise kind of across the board, whether it's summer and you want something refreshing or whether it's winter and you want some kind of tropical escape," he says. "It's much more approachable. It's really hard to find an alienating quality of this style."
The appeal of Levante's New England IPAs isn't going unnoticed, with locals and "beer tourists" now forming lines outside the brewery on release days for cans of Cloudy and Cumbersome much like those at the Vermont breweries that launched the trend. Holm says he's beginning to see cans traded online and in invitation-only beer groups on Facebook.
But waiting in line for canned beer and enjoying a draft in Levante's taproom are two different experiences, and Holm says the brewery considers keeping on-site customers coming back to relax over a pint or two. So even though canned releases of Cloudy and Cumbersome typically sell out, it and several other New England IPA varieties are usually available on draft.
Asked to theorize about the legs of the New England IPA trend, Holm hesitates, but does note that aspects of the New England IPA style have influenced brewers not just to recreate it, but to take elements and apply them to other styles.
"The style is going to continue to get more refined as the drinkers determine what they enjoy most," he says. "It's definitely the drinker that dictates what breweries end up brewing."