Dr. Carol Bouzoukis utilizes toys and drama therapy to help kids cope with trauma, disorders and more
Children's play and drama psychotherapist Dr. Carol Bouzoukis, known to parents as "the child whisperer," is the lone adult in a room surrounded by her tools of choice: toys.
Shelves weigh heavy with Legos, Barbies and a miniature castle, which here, under the care of Bouzoukis, transcend their original plasticky purpose; Pokémon characters line the window sill, while a pirate ship, doll house, the occasional toy cannon and a bean bag chair fill in the remaining corners of the small Greenville office.
The toys inspire the imagination of Bouzoukis' clients, starting from age 3 to pre-teens. And more important, the kids will subconsciously—or consciously—use the toys as symbols that tap into their struggles, which can vary from parental divorce to trauma, abuse, school or social anxiety, tantrums, or others in a long list of disorders.
This idea is explored in the third book Bouzoukis is writing (title pending), revolving around play therapy tools. It explains how these simple objects take on a new meaning in the hands of a child, which really is at the core of play therapy.
"The bean bag chair can become a tsunami, ocean, water, it can even represent me or a parent," she says.
For now, though, therapist, internationally-recognized author and drama coach Bouzoukis, who has owned her own practice, Play Therapy Delaware, for more than two decades, is caught in a rare moment of quiet as she sips a cup of tea.
Her first book, entitled Pediatric Dramatherapy: They Couldn't Run, So They Learned To Fly, focused on the treatment of chronically ill children, while the second, Encouraging Your Child's Imagination, prompts children and schools to create original and improvised plays. She's the recipient of a slew of degrees and accolades, including a doctorate from New York University with an emphasis in Child Dramatherapy and a Master of Fine Arts degree in Child Drama from the University of North Carolina—Greensboro.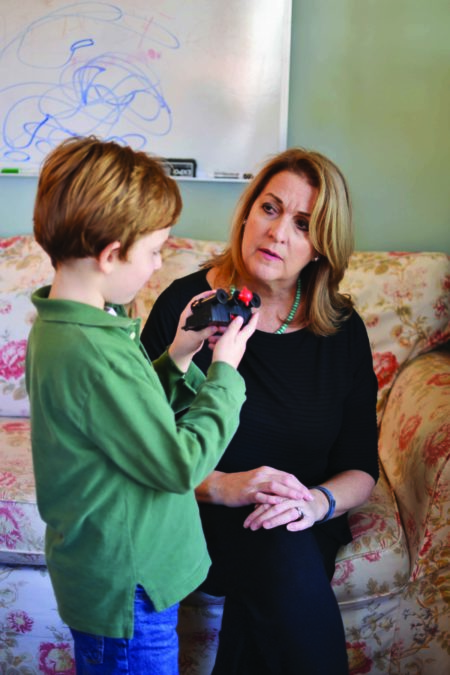 Play therapy dates to the 1950s, and its evolution hasn't gone unnoticed by therapists and members of the public alike; these days mainstream pediatricians and schools don't hesitate to recommend the treatment for a troubled child.
Child-centered and child-directed, this means that patients come into the room and choose what they want to do, what kind of toys they'll play with, what they're going to explore.
"Some people are a little confused about play therapy," says Bouzoukis. "It's not that they come in and play and I lure them into talking about what's wrong. That's a misconception."
It's simpler than that, she explains. The children play with toys or with a sandbox, and Bouzoukis observes.
"With the sandbox, kids will select from themed objects—people, animals, trees, bridges, caves—and put them in the sand to create a picture," she says. "When they're doing that, they're projecting anything that's on their minds—worries, conflicts, anxiety, stress."
Once they set up the scene, kids can give it a name, act it out, or create various scenarios. The same goes for regular toys.
Bouzoukis, who typically meets with patients once a week, will analyze the behavior and look at the themes of the play, symbols and metaphors of what the child selects. But there's never any intervention or prompting on her part.
"What happens is that while they're working through their issues and their conflicts, eventually they'll start to find resolution themselves," says Bouzoukis. "Then I talk to the parents and give them tips on parenting or help them look at the situation through a child's eyes."
Sometimes kids do talk during a session, but whether they do or don't isn't important; what is important is that they can communicate nonverbally, says Bouzoukis.
Kids often carry on a storyline from week to week. For example, if they engage two pirate ships in battle, the war could represent their parents' divorce, or a "fight" within the children when they don't feel good about themselves, says Bouzoukis. Children often show signs of regression by playing with baby toys or by trying to "feed" Bouzoukis toy food.
Of course, Bouzoukis has a no-violence policy, but she says you never know what will happen when emotions churn. Years ago, one patient was dealing with abandonment issues after his mom dropped him off at his father's for the weekend and never came back. "Two years later, he had me pretending to be mom," says Bouzoukis. "I had this refrigerator box the kids liked to play in, and he threw it and walloped me in the head, and my ear was bleeding."
After some time with their kids in play therapy, parents notice changes in observable behaviors: tantrums stop, kids with anxiety lose their anxious ticks or habits.
"Parents say the kids are so happy when they leave here, and they take that out into the world with them," says Bouzoukis. "The child gets to work it all through with the play, and I've done this long enough to see the effectiveness of this work with children. I'm very lucky to do what I do."
For more, visit playtherapydelaware.com, or contact Bouzoukis at cbouzoukis@gmail.com or 777-1110. Play Therapy Delaware is located at 2 Greenville Crossing, Suite 244, 4001 Kennett Pike, Greenville.